RiyazStudio - Indian music software
RiyazStudio combines tanpura and tabla machines in a responsive and easy-to-use computer based (Windows and now IntelMac and Linux via CrossOver) practice environment for North Indian classical music.
RiyazStudio simply replays real tabla performances in contrast to mechanical sounding software or tabla machines that set individual tabla bols at rigidly set intervals.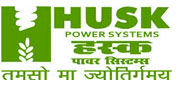 Fine tune the tabla and tanpura exactly to your preferred pitch. Select different tabla styles - or switch automatically between them in our Semi-Classical version. Adjust the tempo on-the-fly by tapping the B (for beat) key.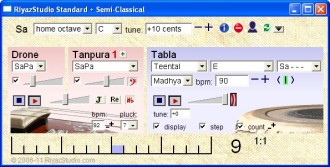 Practising with RiyazStudio is the ideal preparation to performing with live tabla accompaniment - first because it gives the aural cues that real tabla players provide - but even more because the organic feel of the tabla loops encourages rhythmic play and helps develop your improvisational skills.

"The best thing is that it feels alive"

"And to think, an electronic shruti box and an electronic tabla would cost me hundreds of dollars, and they wouldn't sound as good"

How can I get RiyazStudio?
The easiest way to get RiyazStudio is to download it from this website and buy a registration key. If you prefer (say if your internet connection is slow) you can buy RiyazStudio on CD-ROM together with your registration key.
Once RiyazStudio is installed on your computer you'll need to connect to the web - just the once - to complete the computer licencing. And then you can concentrate on your riyaz.

What are the different versions of RiyazStudio?

RiyazStudio Standard and RiyazStudio Semi-Classical can each be installed alone, or one-after-the-other to give a combined application.

For a more flexible and adjustable tanpura, install RiyazStudio Tanpura on-top-of the other versions. Its core functions are free for existing users. Playing 'Tanpura User Settings' (currently named after various raags) requires a registration upgrade.


RiyazStudio Standard

Tanpura plus Tabla playing fifteen commonly used classical and light taals.
The tanpura plays standard Sa, SaPa, SaMa tunings - plus special tunings for raags Pooriya, Gujari Todi and Marwa
The tabla plays taals Teental, Ektal, Rupaktal, Jhaptal, Addhatal (Sitarkhani/Punjabi), Keherwa, Dadra, Deepchandi and Jhoomra - using samples recorded at speeds ranging from vilambit (slow) to ati drut (very fast).
Latest version adds taals Ada Chautal, Mattatal, Tilwada and Soolfakta, plus Chautal and Dhammar (played on Pakhawaj).
flute practice sessions with Riyaz Studio
Tofail Ahmed singing with
RiyazStudio accompaniment:
Guido Schiraldi plays sitar with
RiyazStudio accompaniment:

RiyazStudio Semi-Classical


Tanpura plus Tabla playing light music taal variations.
Doesn't include classical taals Teental, Ektal and Jhaptal.
Add it to your Standard installation or - if you don't use classical taals - install it on it's own.
Over 200 specially recorded variations of Kerherwa (encompassing Bhajani, Qawwali and Ghazal theka) Dadra, Rupak, Addhatal, Deepchandi and Jat.
Covers a wide range of styles. Groups together similar variations to provide subtle rhythmic modulation.
New program features: User Settings, Variation Programming, Ga/Da Tabla tunings, "boost tabla", resizable window.


flute practice with Bhajani, Qawwali & Filmi Ghazal
Copyright © 2006-2012 RiyazStudio